Editor's Note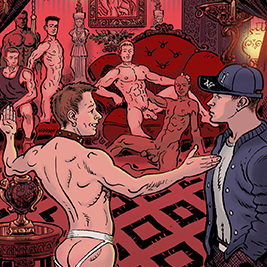 From the story "Big Cat" (Click to enlarge)
I'm proceeding cautiously with this. The idea is, there's a professional porn website that's potentially of interest to my readers because of its unusual focus on furry transformations and similar material, providing explicit hardcore furry and tf stories along with associated comic pages, images, and video. There aren't a lot of sites or businesses that cater to the kinds of interests that overlap with a site like mine, so I'm like, hey, guys, there it is.
This story is representative of the kind of content there, and I'm passing it on partly so people can enjoy it for free and partly so folks have a clearer sense of what they would be getting if they were really interested. You can check it out if you want, and if you like it and have a budget for kink you can go further. I don't mind sharing the story, but it's not quite the same thing as the usual amateur content, so take it in that context. Any feedback please post below in the comments or talk to me via the contact form.
All chapters in the story "Big Cat" have comics, photos, and live action videos on GrowlBoys.com.